We're here to make the search for the RIGHT wedding suit a little easier on you!
---
Weddings are often a busy and stressful time for couples. You're looking for the right venue, caterers, a perfect wedding dress. It can be easy to forget that your wedding is just as much about you as it is about your lovely bride.
From choosing the right shirt and getting your blazer to fit perfectly to choosing complementing accessories and making sure that your socks match with the rest of your outfit, ​there's a lot more to perfecting your wedding attire than simply "throwing on a suit".
Luckily, we have combined the advice of our expert staff into a short guide so you can make sure that you'll look your absolute best when the BIG DAY finally comes.
THE SUIT
When it comes to styling, the options are endless:
You can go with the ​classic black formal suit ​and tie paired with a white shirt
Go ​old-school i​n either plaid or a tailcoat suit
Add a ​modern touch​ by choosing navy blue, beige or grey instead of black
Choose a ​three-piece suit ​to add a bit of a vintage feel
Make a ​bold statement​ with a pop of colour – choose from options like burgundy, green or even pastel pink!
If you're not sure about what style to go for, pop into one of our stores and our staff will be happy to help you choose the best suit for your special day.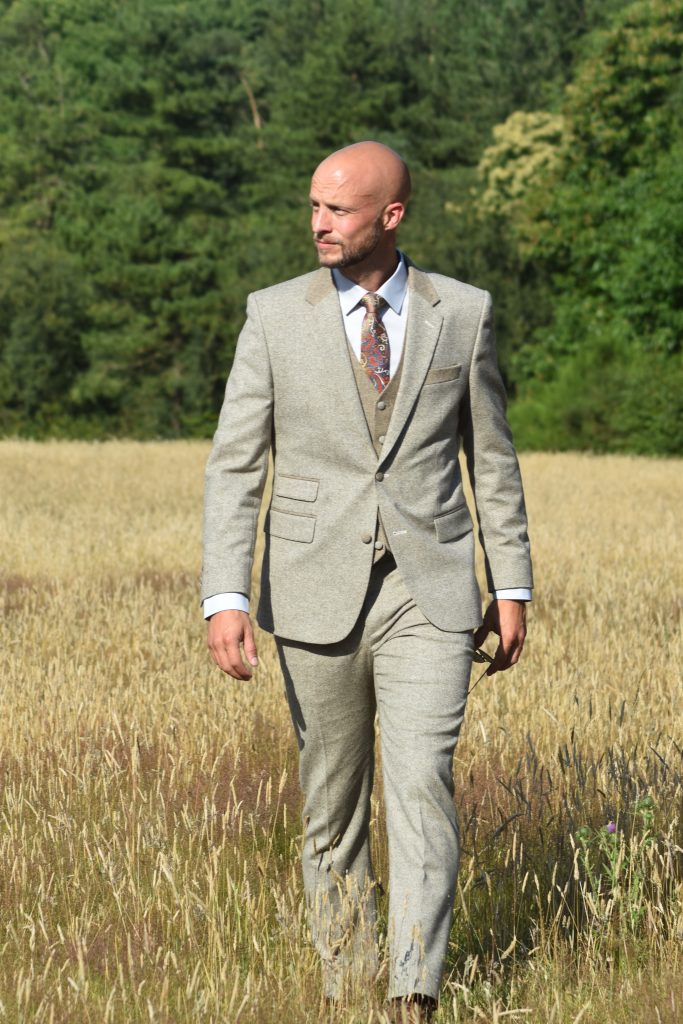 THE PERFECT FIT
The most important thing to get right about your suit is the right fit for your build. But how will you know if the fit is just perfect?
"The shoulders of the jacket should line with your own and not appear to overhang or feel a gap between the sleeve of the jacket and the shoulders. The jacket should not ruck up on the collar, which would mean that it is too tight around the shoulders.
You should be able to cup the bottom of the jacket with the hands by the side and the sleeve should just touch the bottom of where the thumb begins on the hand."
Tailoring your suit to your build is crucial, which is why at County Clothes we offer a free and professional alteration service on all full priced items purchased.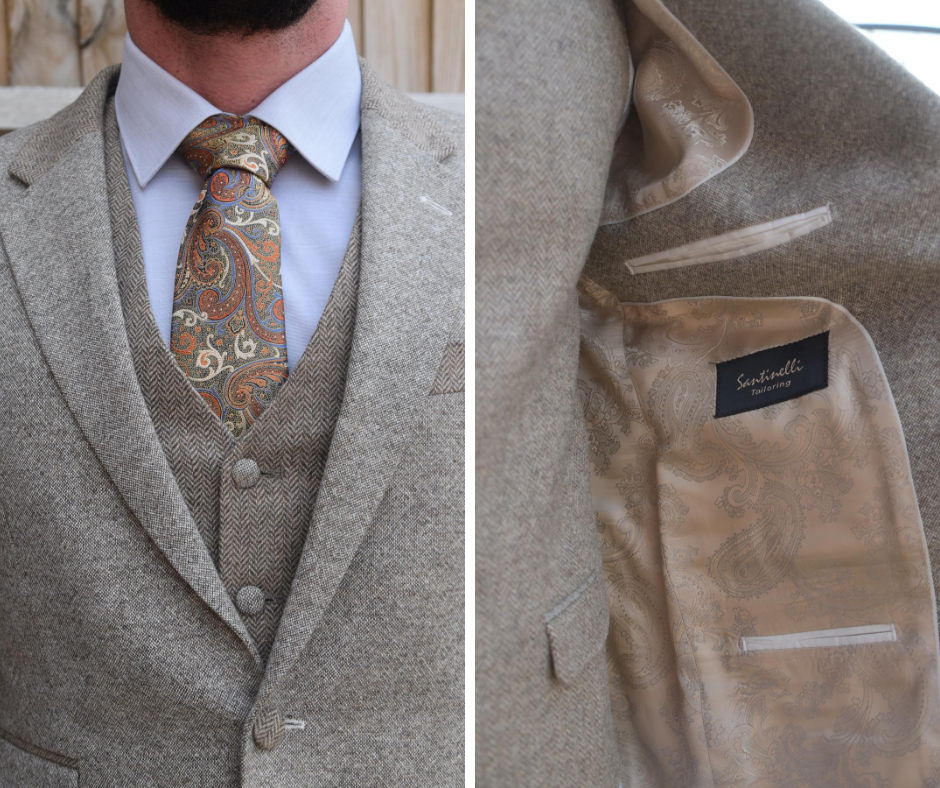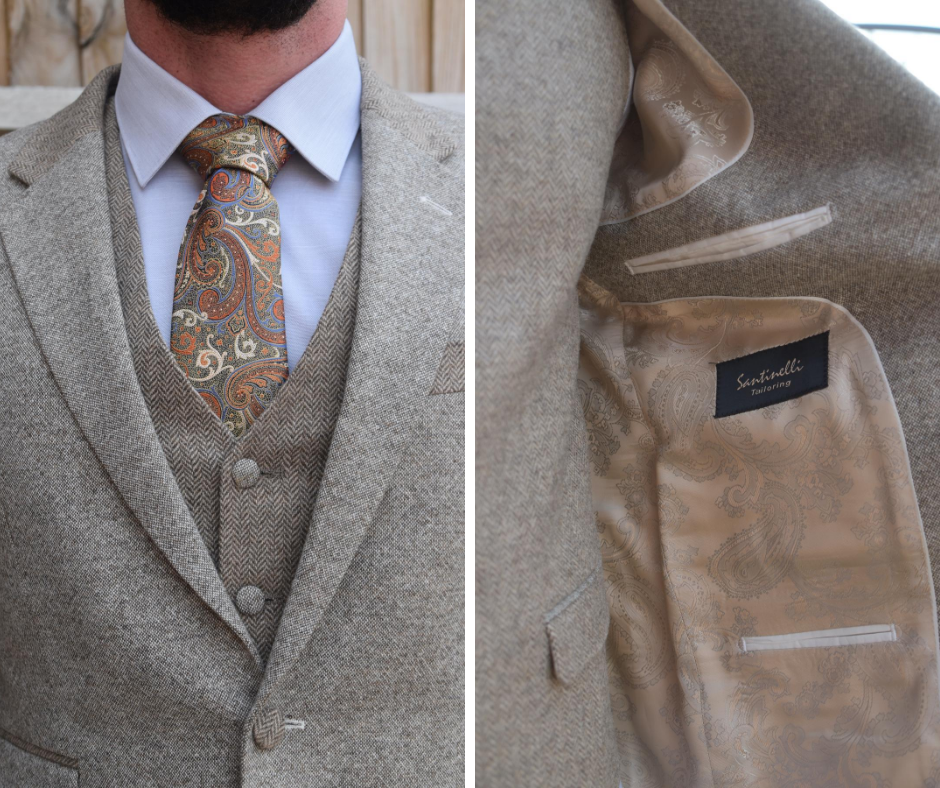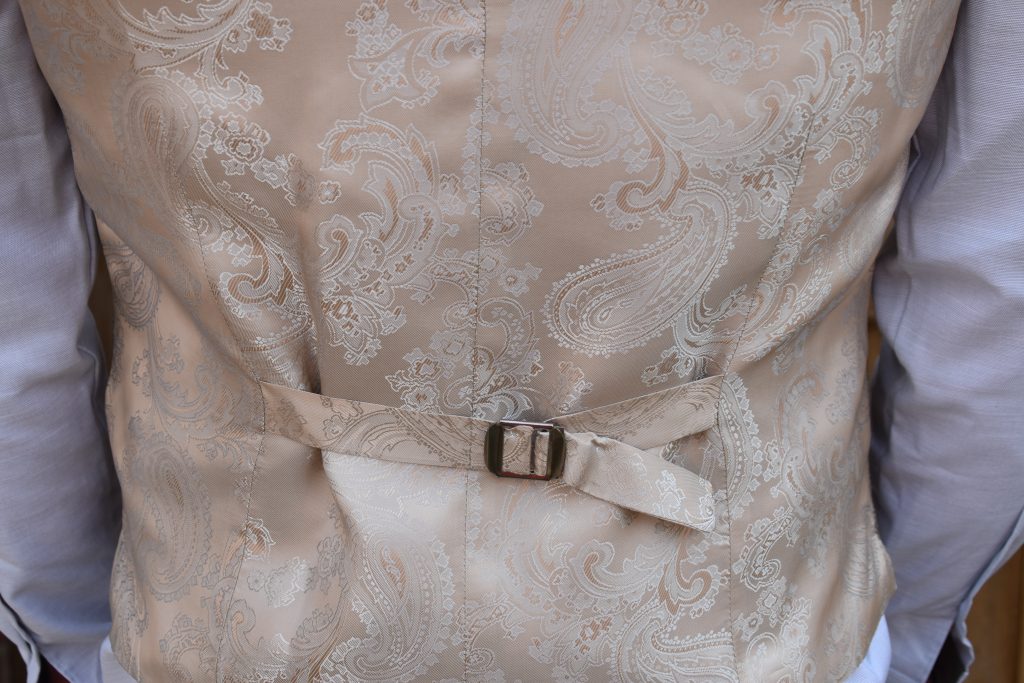 The model in the photo is wearing a ​Hugo James​ suit​ (£410.00) made with 100% wool with contrasting herringbone detailing on the trim of the collar, pockets and buttons. The waistcoat (£95.00) is contrasting herringbone.
SHIRT
It's easy to overlook the importance of the shirt since the suit is the most visible part of your outfit. Ensuring that you get the best fit for your body will make you feel more comfortable and confident on the day – so choose wisely!
Here's a few tips for you to keep in mind:
A white shirt will work great with anything and so it's always a good choice. You want to choose it particularly if you're going for the classic black suit and tie.
Choose a shade that complements your bride's dress – you don't want to wear a white shirt if her dress is more of a cream shade.
Make sure that your shirt is not see-through.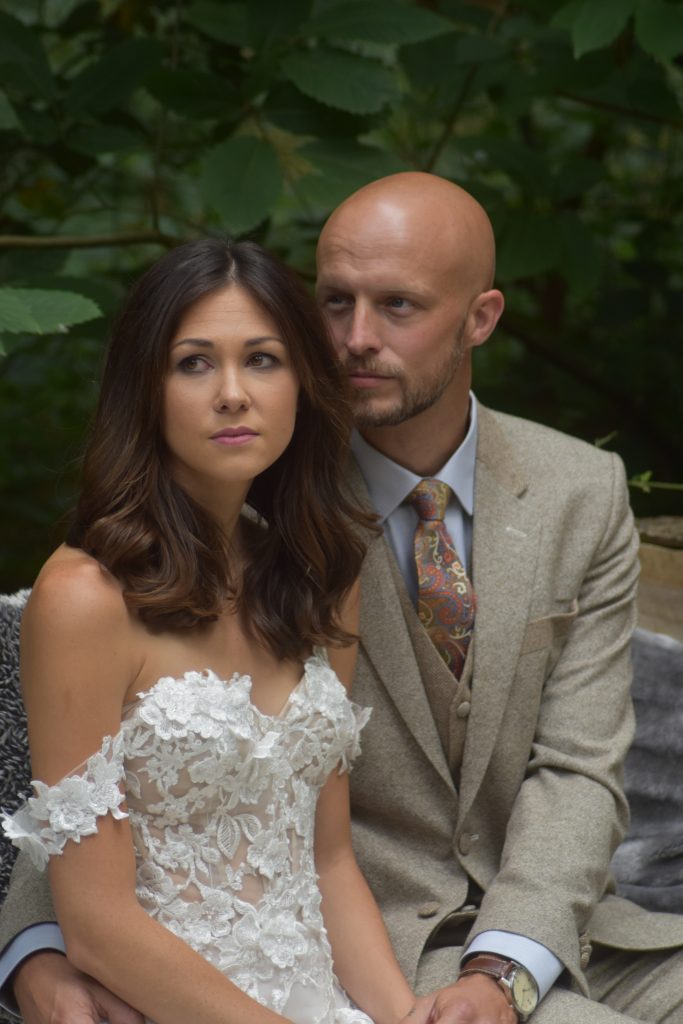 A wedding shirt doesn't have to be white BUT make sure that it complements the rest of your outfit, your bride's dress and the theme of the wedding. For example, you can match your shirt to the colour of your tie, such as a black tie on a black shirt or even go for subtle prints like stripes or florals.
Here, our model is wearing an ​Olymp ​Body Fit​ shirt (£65.00) in a light shade of blue.
Whatever your preferences, "be open to advice from others and make sure to get a few options of shirts that contrast and work well with the suit for different occasions".
TROUSERS
A slim fit is the most flattering choice you can go for. Make sure that the hem sits right above your shoes – you don't want your trousers to bunch up above your ankles.
SOCKS
Your best bet is to match your socks to your trousers for that classic look. If you want to make a bolder statement, coordinate them with another part of your outfit (e.g. your tie or pocket square) or the colour theme of your wedding.
Whatever you do, just don't wear white socks with black trousers.
ACCESSORIES
We'd say that "the small details are normally the most effective. Choose a tie and pocket square combination to complement the shirt and suit or even go for a pocket watch to add a bit of vintage flair."
You can choose from buttonholes, boutonnieres, cufflinks and even suspenders – but don't go overboard!
"The most important thing to get right is that [all the elements] complement one another and do not outshine or detract from the others"
Our model is wearing a ​blue label tie​ (£35.00) from​ Van Buck England.
---
Follow us on Facebook and Instagram to see more of our wedding suit posts and to keep up to date with our "Pick of the Week" series!
If you enjoyed this article, you might also like Sports Jackets | Our Top 5 Picks.
---
Concept, Organisation and Photography: Louise White @LWNaturalisticPhotography
Venue: @longtonwood
Real-life model couple: Francesca & Mat @photosby.cesca
Hair & Make up: @bridalbycesca
Hair Accessories: @JewelJunkiexo
Nails: @nails.by.cesca
Dress Designer: @Enzoani
Bridal Store: @GoBridal
Suit: @County_Clothes
Cake: @allshapescakes
Woodland animal Pegs: @poppyspegs
Campervan: @topbird1981
Cute Dog: Titan @louise_white2019 & @rickywhitepd
Jewellery: @charlesgreen1824
Sparklers: @wedding_day_sparklers
Accessories: Soft Furnishings @bm_stores & @wilko, @cocacola, Popcorn by @planetorganic